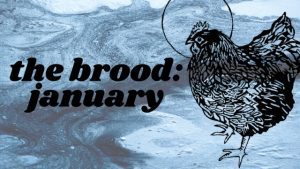 Hello Friends of the Brood,
Epiphany and New Year blessings to each of you! Needless to say, 2022 has come in like a wrecking ball, and Omicron seems hellbent on upending all of our best laid plans. For the safety of all, we'll meet virtually again this month for a time of reflection and fellowship, rather than meeting in person as I had hoped.
It was really wonderful to connect with a handful of you in December for our "Connected Christmas" conversation, and I hope you'll consider joining us next Wednesday at 8pm for a Zoom conversation about cultivating faith in rocky soil. Here is a link to the event invitation for next Wednesday's conversation:  https://www.facebook.com/events/2592149820929754
In the meantime, I read this poem today and thought of you all, and the many paths this wild and sacred jand fraught journey of foster care and adoption (not to mention COVID!) has us traveling down. I hope it brings you some comfort.
A Poem for Epiphany
Kate Compston
O God,
who am I now?
Once, I was secure
in familiar territory
in my sense of belonging
unquestioning of
the norms of my culture
the assumptions built into my language
the values shared by my society.
But now you have called me out and away from home
and I do not know where you are leading.
I am empty, unsure, uncomfortable.
I have only a beckoning star to follow.
Journeying God,
pitch your tent with mine
so that I may not become deterred
by hardship, strangeness, doubt.
Show me the movement I must make
toward a wealth not dependent on possessions
toward a wisdom not based on books
toward a strength not bolstered by might
toward a God not confined to heaven
but scandalously earthed, poor, unrecognized…
Help me find myself
as I walk in others' shoes.
Peace to you and yours,
Rev. Olivia
PS Prayer requests? Need a lasagna or casserole? Let me know how The Brood can support you this month.