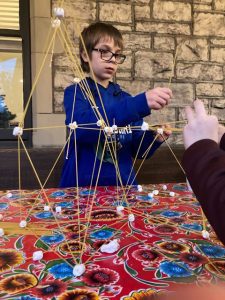 Sunday was great fun – the kids engaged in some friendly competition to see which group could make the tallest Christmas tree out of raw spaghetti and marshmallows. In the end, one tree was taller but one tree got points for being more aesthetically pleasing, so we called it a tie and had a round of salted caramel hot chocolate to celebrate!
I wanted to put a few things on your radar for the next few weeks:
In the beginning of Fearless, one of our tweens asked if we could go to the Observatory. Well, it turns out that the Observatory will be coming to us! While we originally hoped to have the "Follow the Star" stargazing party in December, rain is derailing our plans. 🙁  We are moving the event until January, but no date has been buttoned down yet.
The survey results are in and it looks like we'll be moving inside for the duration of the winter season. Please have your child bring a mask this week (we'll have extras on hand in the event you forget). We'll still do our snack time on the porch!
Fearless tweens are invited to take on "lead roles" in this year's Christmas Pageant (5 pm on Christmas Eve). If your child has not signed up for a role — do not fear! — we are still looking to fill a few lead spots. Let me know if interested! Either way, all children are invited to participate if they so desire and there are many ways to be involved, including behind-the-scenes.
Fearless will take a two-week hiatus over the Christmas holiday. We will not meet on Dec. 26th or January 2nd, but will resume on January 9th.
May you have a great weekend and see you Sunday,
Peace,
Reverend Olivia