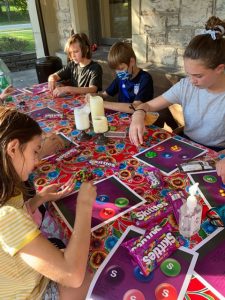 Hello Fearless Families,
We had so much fun on Sunday! Myles and Emma introduced some new games including my personal favorite, "Evil Kitten," and we ran and ran and ran. I hope your kids slept well on Sunday night! We also played a game with Skittles where for every color, the kids had to answer a question about God (i.e. What three words would you use to describe God? When was a time when you felt close to God? What would you ask God if you could ask God anything?) It was fun and touching to hear their answers. They are a super insightful bunch.
For the next two weeks, Raina Graham will be joining us to lead us in an exploration of watercolors. It promises to be a great time. I look forward to seeing you all then!
Peace,
Rev. Olivia