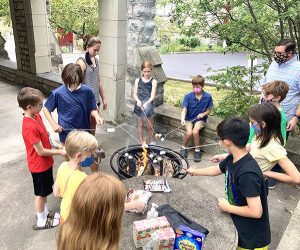 We had a fantastic launch Sunday night! The tweens brought outstanding enthusiasm and excitement. Many s'mores were consumed, faces and hands got sticky, trees were climbed, and we even snuck in a little religious education amidst the icebreakers and giggles! To start, the kids had the chance to share about their hopes for the group, and we heard everything from "making new friends," to "getting to eat sour candy," to "petting a bunny" to "going to the planetarium." We'll see what we can do to make it all happen! 😀
Our theme for the first two weeks is exploring the Book of Psalms. I wanted to introduce the psalms off the bat because they are a great example of how God's people have wrestled with faith and life. They are expressions of hope, fear, doubt and praise. The tween years are a time when a lot of these emotions/questions bubble up, and I wanted to impress upon the kids that Fearless is a place where they can share their thoughts and feelings about faith and life with each other and with God. Brad Turner was our "content expert" for the evening and will join us again next Sunday. He shared a fantastic Psalm rap that he'd written about gratitude for the blessings of this life. The kids then had the chance to write their own Psalms, whether as a chalk doodle or with pen and paper. For our closing ritual, we shared something we are grateful for and ended in prayer. Then commenced the (supervised) "throwing random things in the fire" phase of the evening before parents arrived!
I look forward to getting to know our tweens and providing opportunities for them to have fun and to grow in faith.
Peace,
Reverend Olivia