Hello Friends,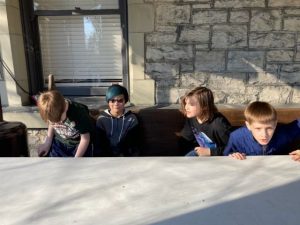 Fearless tweens tried their hands at some improv games this Sunday and had a lot of fun trying to make each other laugh with silly antics. The weather was beautiful for outdoor play and we enjoyed the early evening sunlight.
As a heads up: on Sunday April 10th, weather permitting, we will finally be able to go on our Mill Creek adventure! The plan is to meet up directly after the 11am service (around 12:15) on the Calvary House porch for a pizza lunch. We'll then head down to Salway Park (a five minute drive from Calvary). Children can be picked up from Salway at 2pm. We will not meet for Fearless that evening. Stay tuned for more details as the date approaches.
I also want to let you know for your planning purposes that Fearless will not meet on Easter Sunday (April 17) or Mother's Day (May 8). Our last Fearless for the year will be Sunday, May 22nd and we'll have a big celebration! We'll have a few social events for the kids over the summer as well, so stay tuned.
Looking forward to seeing you this Sunday at 4:30. There will be a choir rehearsing in Hannaford Hall so we will be outside with a fire pit and heat lamps — plan accordingly!
Peace,
Reverend Olivia