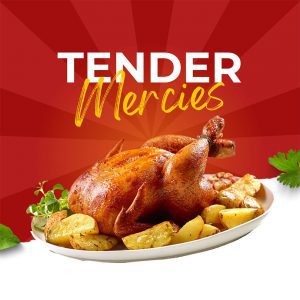 For many years we have partnered with Tender Mercies to provide meals to individuals experiencing mental illness. Parishioners
Maggie and Paul Davis
shepherded the ministry through COVID and made sure that a delicious pre-packaged meal was delivered to Tender Mercies on the last Sunday of the month, no matter what. As restrictions have lifted, we've been able to return to cooking and serving. In July, we were able to serve a truly fantastic feast to the residents:
Bishop Nedi Rivera
made roasted chicken with a flavorful tzatziki sauce and herbed green beans.
Duane Lewis
provided buttery mashed Yukon Gold potatoes that he mashed himself.
Susan Petersen
provided a delicious, fresh green salad.
Janet Keller
provided rolls and
Jane Pareskevopoulous
contributed a juicy watermelon and cupcakes for dessert.
Henry and Kelsey Logan
and I served nearly fifty people and left completely empty handed! So many residents commented on the mouth watering aromas that filled the room and what a treat it was to eat a home cooked meal.
It was an amazing gift to me to be able to witness the collaboration and connection that night. I've always known that Calvary has a charism for hospitality, but this particular night was especially memorable for me.
If you are interested in cooking or serving at Tender Mercies in the future and being part of this life-giving and nourishing ministry, please let me know. Many thanks to all who contributed and made it an evening to remember.
Peace,
Reverend Olivia