From time to time, usually about every ten years, the Archbishop of Canterbury (ABC) invites the bishops of the Anglican Communion to gather at the University of Kent in Canterbury for common prayer, study, conversation and worship. The conference begins with a two day retreat in Canterbury Cathedral, but then moves to a more dialogical format. Each day begins with Bible Exposition (in plenary) and Study (in smallish groups) followed by Plenary Sessions on various topics led by both bishops and other educators. As you know, when we gather in this way, we strengthen our commitment and love for one another. Often Companion Diocese partnerships are forged at Lambeth.
This year there were pre-meetings by Zoom type gatherings where the bishops could begin to know tone another as well as the topics under consideration at the Conference. The Anglican Communion (AC) is more like a family of churches than an organized confederation. Like the House of Bishops in The Episcopal Church (TEC), the Lambeth Conference has no legislative authority over the communion. That is not to say that bishops won't speak out. Sometimes the bishops (both in the AC and TEC) produce opinion papers, calls to action, or statements of agreement among themselves about current issues. On the other hand, there can be a movement to be more authoritative.
In our church (TEC) only the General Convention (which meets every three years and just met in Baltimore) has the authority to speak for the church. Bishops can speak for themselves or as authorized by their diocesan conventions, but we cannot make decisions for the church on our own. This isn't the polity in many other parts of the Communion, and sometimes it is difficult for others to understand our respect for the voice and wisdom of the laity and other ordered people. In parts of Africa, for instance, the bishop not only speaks for him or herself, but for the church as a whole, so when they arrive at Lambeth they expect Lambeth to have authority to speak for the whole Communion.
That brings us to this week: Lambeth 2022. In his invitation to the bishops, Archbishop Justin Welby prioritized full attendance. In 2008 some bishops refused to attend because they didn't agree with the way we do things in North America and other more 'progressive churches.' even though Bishop Gene Robinson, the only (openly) partnered gay bishop was specifically un- invited. Archbishop Welby worked hard for full inclusion (although the spouses of gay and lesbian bishops cannot participate in official events for the spouses.) Over and over, the stated reason for gathering was strengthening the bonds of affection, and mutual responsibility and interdependence. We do this through conversation, learning, prayer and worship.
Then, last week, just before the meeting was to begin (after many bishops had already left for England) the Lambeth Committee sent out what are called Lambeth Calls. These papers are written to be responses to the plenary sessions and express statements of Call on those topics. One of these papers, ironically called Human Dignity asked the bishops to reaffirm a statement from from the 1998 Lambeth Conference that denies the full rights of same sex couples. I have not read the papers. I am only repeating what I have read and learned from others (whom I trust.) I understand there are parts of this Call that should be supported while the statement from 1998 denies the dignity of all God's people.
Folks were angry. It appeared to them that these papers were being foisted on them at the last minute, and that they preempt conversation as well as true discernment. It seemed to change the nature of the conference. But God's Grace and love (often revealed in the cries of the faithful) will always prevail. The language of the Call was changed. The University of Kent also offered a Rainbow Walk — a mini Pride Parade — by inviting the bishops to do the "Lambeth Walk" on Wednesday just before the formal opening of the conference.
Here's what you need to know: whatever Lambeth says or does, The Episcopal Church is clear. We will "strive for justice and peace among all people, and respect the dignity of every human being." the Good News of Jesus Christ is that all are loved! I do not believe we will, (or that we even could) go back on our commitment to a being a church that fully welcomes everyone. In the words of the Rev. Barry Stopfel, we cannot "compromise [our] integrity for the sake of the institution." Jesus was crucified because he loved, and proclaimed God's love for those who had always been perceived as unlovable. Our Call is always to love unconditionally. Bishop Deon Johnson (Missouri) posted this on Facebook:
". . .To my LGBTQIA+ siblings know that my dignity and worth, your dignity and worth does not come from resolutions, or calls or legislation, they come from a God who names us and claims us as beloved! No amount of posturing or power-grabbing can deny our place at the table because God is founder of the feast! All are welcomed all are fed! . . ."
May I add that your dignity and worth, whoever you are (!) comes from God who calls you, "Beloved." No exceptions!
My sisters and brothers, the Lambeth Conference is a gathering of bishops – no more, no less. They have no authority over our church or any other church in the Communion. The ABC is not a pope. As the bishops gather, we hope they and we will all, more and more, see the fullness of God's love. We hope they and we are instruments of that love who need to know – through one another – how and where we fall short of expressing that love.
"Here's what you need to know: whatever Lambeth says or does, The Episcopal Church is clear. We will "strive for justice and peace among all people, and respect the dignity of every human being." The Good News of Jesus Christ is that all are loved!"
You can watch the programme (their spelling!) of Lambeth here. Also the Lambeth Conference has a Facebook page.
See this Episcopal News Service article for more detailed information about the controversy (which has faded since the original writing of this blog.) The bishop of the Episcopal Church in Europe says this better than I in this statement. Here is Presiding Bishop Michael Curry's notice to the House of Bishops about the Calls. Lambeth Calls and Gathering of our House at Lambeth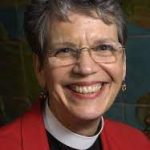 Bishop Nedi Rivera
Bishop Rivera is the first Latina bishop and the 12th woman bishop in The Episcopal Church. Before she was elected Olympia's first suffragan, she was rector for 10 years of St. Aidan's Episcopal Church, San Francisco. Ordained to the priesthood in 1979, Bishop Rivera has served parishes in both the Diocese of California and the Diocese of El Camino Real. She earned an M.Div and a D.D. from the Church Divinity School of the Pacific in Berkeley, Calif.
After retiring to Cincinnati to be closer to family, Bishop Rivera accepted an invitation to serve as an assisting bishop in Southern Ohio in 2010.