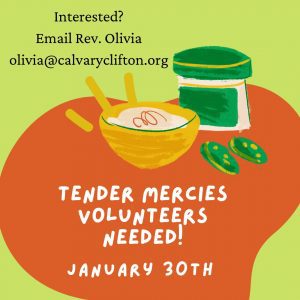 Beginning this month, we will resume cooking for our neighbors in need at Tender Mercies. While we have the main dish covered, we are looking for volunteers to supply cornbread, salad, desserts and drinks. We will also need two to three volunteers to serve dinner to the guests. The time commitment is 4:30-6:00 for serving and the ministry is extremely rewarding. To sign-up to cook or serve, please visit the following link:
https://www.signupgenius.com/go/10C0D4BABAE2CABFBC07-tender
If you have questions or are curious about whether this ministry might be for you, reach out to Rev. Olivia to discuss.